AGT [Predictions, Reflections, and What A Great Season!]
6:57 AM
Hola readers!
For all of you American folks who've kept up with America's Got Talent over the summer and into the fall, this post is for you. I wanted to just reflect on my favorite acts of the season as well as my predictions of who will win. I mean, it's been a great season for AGT - one of the best in my opinion. Maybe it's because so many of my favorites made it to the finale or maybe because of Preacher Lawson and the amazing Chase Goehring or In The Stairwell (which sadly did not make it to the last episode to compete for the one million dollars), but whatever it was - it was a great season!
Personally, my favorites from day one were...
Chase Goehring
I love this guy - amazing singer and song writer! I love have authentic and real he and his music is as well as the unique rapping he puts as a twist to his songs. I just love him and am beyond thrilled he made it through to the finale so I can see him preform one last time!
Preacher Lawson
I was so scared Preacher wouldn't make it to the last round - believe me, I loved the gospel group, but Preacher's comedy is spot on and he makes me laugh so hard. Plus his jokes are fairly clean, which adds to his charm.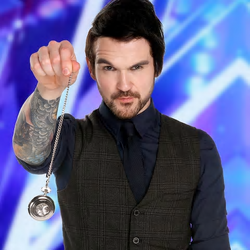 Colin Cloud
Sadly this guy didn't make it to the finale but he probably will have his own show somewhere. What can I say? I love Sherlock Holmes!
Mandy Harvey
This girl is deaf but sings, and sings beautifully. It's amazing and so is her voice!
So. There are so many good acts tonight and I'm going to have such a hard time voting, buttt who do I think shall win? I honestly don't know! Both singers with sad but inspiring backstories will probably get high votes simply for their story. Note to you readers: Don't vote for someone just because you think they're inspiring. Judge their performance. Don't do it just because you feel sorry for them or relate to them. I don't think that's fair to anyone.
Now, I think one of the singers might win because let's be real - there's a good lineup and their's five singers to five unique, individual acts. Music moves people and usually music wins for most. You'll see me vote for one of my favorites, I'm sure, but really this year I'm at loss at the winner.
I guess we'll just have to find out tomorrow....
And on a random note, what do you all think of Mel B.'s hair and costumes? Hunger Games, anyone?
So, who do you think will win? Who was your favorite act of the year?